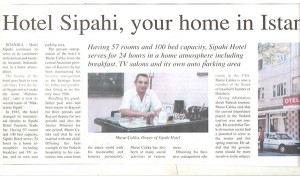 Hotel Sipahi continues to serve to its customers in historical and touristic location, Sultanahmet in a home atmosphere.The history of the hotel goes back to very old times. First the hotel began service under the name 'Mahmudiye', later it took its second name of 'Mükremin Sipahi'. In 1983, the hotel changed its institutional identity to Sipahi Hotel Tourism Trade Inc. Having 57 rooms and 100 bed capacity, Sipahi Hotel serves 24 hours in a home atmosphere including breakfast and TV sa-lon, and its own auto parking area.
The present entrepreneur of the hotel is Murat Calika from the central Anatolian prov-ince of Kayseri; he has been maintaining his business management as the heritage from his father and grandfa-ther fitting to its history since 1986. Recalling his grandfather past who had been mayor in Kayseri for three periods and Kayseri deputy for two periods and also the Justice Minister for one period, Murat Calika said that he was married with one child. Offering the best example of the Turkish hospitality to his customers who come from the entire world with his trustworthy and honesty personality. Murat calika has also been at many social activities in various areas. Obtaining his business management education in the USA, Murat calika is also a member of the Board of Istanbul Chamber of Hoteliers.
Giving information about Turkish tourism, Murat Calika said that the current importance placed in the Turkish tourism was not eno-ugh. He noted that Tur-kish tourism sector had a potential to serve as the winter and hot spring tourism. He added that the government should be more sensitive to the subject.